By Caroline Hudson  – Staff Writer, Charlotte Business Journal
Jul 31, 2019, 2:53pm EDT
https://www.bizjournals.com/charlotte/news/2019/07/31/photos-a-first-look-at-orthocarolinas-new.html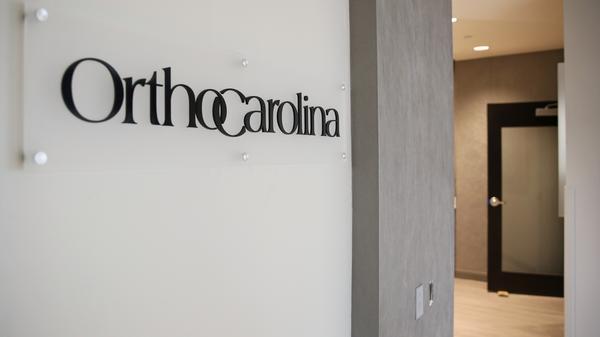 OrthoCarolina is putting the finishing touches on its new Pineville office as it readies to open on Monday.
The 20,000-square-foot office is at the former Terraces at Park Place shopping center near the intersection of Pineville-Matthews Road and Interstate 485. Bi-Lo previously anchored that shopping center.
Collett Capital acquired all 81,440 square feet of the center for $12.35 million about a year ago. Collett, along with partners Lions Gate Capital and OrthoCarolina, plans to transform the location into Terraces Medical Plaza.
OrthoCarolina's office is divided into two sections: One is for the six anchor doctors and physician assistants, plus rotating providers, specializing in spine, pediatrics, hip and knee, shoulder and elbow, hand and foot and ankle care, while the other is for occupational and physical therapy.
The doctors' side is further divided into five pods with 30 patient rooms and two X-ray rooms. That's up from 18 patient rooms and one X-ray room at the old space connected to Atrium Health-Pineville.
The therapy side, with its 12 providers, comes equipped with a pool for aquatic therapy, a gym and a smaller waiting area. OrthoCarolina doubled its capacity for aquatic therapy at the new facility, said Kristen Jones, director of physical and hand therapy.
Having previously housed a grocery store, there are no windows beyond the front wall. Contractors put in ample lighting to replace the natural light that would come with windows.
"We wanted to create an aesthetic that you walk in and you don't realize you don't have windows," Jones said.
Artwork provides pops of color throughout the space. The Pineville design is modeled after OrthoCarolina's SouthPark office, said Catherine Anderson, practice administrator. That 16,000-square-foot office opened in November 2017.
The goal is to keep patient flow running smoothly and reduce wait times.
Anderson said the office staff is cross-trained to handle patients on both sides of the practice. She estimated the doctors' side could see more than 350 patients a day with a full schedule. The therapy side, Jones said, projects it will see more than 20,000 patients in 2020.
It took about five months to upfit OrthoCarolina's space, said Mark Walle, project manager. Contractors started with a clean slate, as equipment and flooring from the previous tenant was already removed.
Keach Construction is the general contractor. McCulloch England Associates is the project architect.