Novant Health's midtown medical plaza reaches construction milestone
https://www.bizjournals.com/charlotte/news/2019/04/22/photos-novant-healths-midtown-medical-plaza.html
By Caroline Hudson  – Staff Writer, Charlotte Business Journal
Novant Health's newest medical plaza in midtown Charlotte reached a milestone last week, as executives and employees celebrated the final beam's placement with a topping-out ceremony.
Crews broke ground on the seven-story, 260,000-square-foot facility late last year. The parcel stretches from the intersection of Fourth Street and Hawthorne Lane and back toward Third Street. It is adjacent to Presbyterian Medical Tower.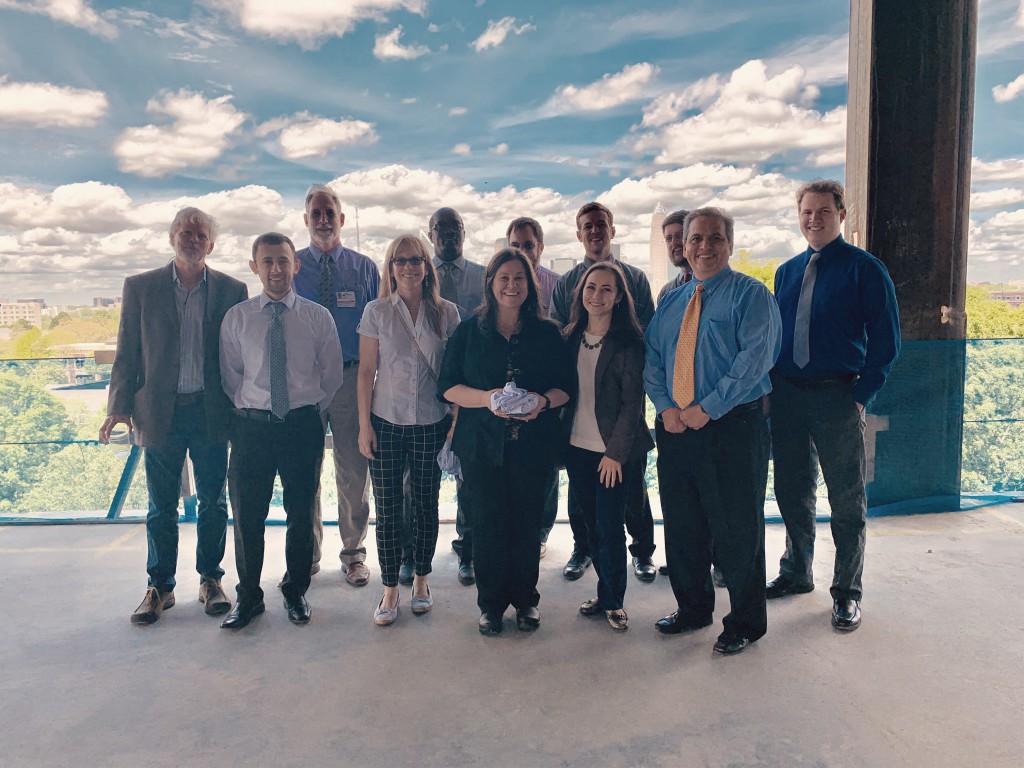 The $165.9 million facility will house the John M. and Claudia W. Belk Heart and Vascular Institute as well as the Edward I. and Agnes B. Weisiger Cancer Center.
"Two of the major leading causes of death in North Carolina and United States are cancer and heart disease," said Dr. Saad Ehtisham, president of Presbyterian Medical Center. "What's remarkable about this building is its design with a healing environment in mind, holistic approach to bringing modalities between cancer and heart disease under one roof and using research as a conduit to bring the newest trials to our patients in the communities."
The setup is as follows: radiation oncology, retail pharmacy and cafe on the first floor; adult cardiology, cardiac and vascular, heart failure and electrophysiology on the second floor; rehabilitation on the third floor; gastrourinary, gastrointestinal and head and neck modalities on the fourth floor; breast, high risk, gynecology oncology and integrative medicine on the fifth floor; hematology, thoracic, therapeutic neurology and research on the sixth floor; 80-bay infusion center and clinical trials on the seventh floor.
The Presbyterian Medical Center Foundation kicked off its campaign in 2011 to raise money for the medical plaza.
Ehtisham said the plaza will conduct clinical trials in phases I, II and III. Phase I clinical trials will have a dedicated space with eight chairs and four outpatient beds. Every floor also has its own lab and support services, he added.
Dr. Gary Niess, senior vice president of the heart and vascular institute, noted the synergies between having heart and cancer care in the same building. Cancer treatments can cause heart problems in patients, for example.
The rehab services on the third floor will also help both cardiac and cancer patients heal, Niess said.
A skybridge will connect the facility to the adjacent Presbyterian Medical Tower and the Presbyterian Medical Center across the street. That gives medical staff and patients direct access to all of those resources, Ehtisham said.
"We, not long ago, put a pedometer on one of our staff and had them follow a patient from one testing site, to the next testing site, to the next visit to get a valve replacement. They traveled with them to registration, and then on to one doctor's office and on to get some testing, and then on to another place where they saw another doctor. The total steps for that patient that day were 7,500 steps," Niess said. "And remember — the healthy Fitbits tell you 10,000 steps a day. These are people who are so sick they need their heart valve replaced, and their journey was 7,000 steps. Now, they're not going to have to take 7,000 steps."
Novant is also planning a $5.2 million project to upfit its breast center in the medical tower, Ehtisham said. That is also scheduled for completion in late 2020.
Also of note is the new plaza's integrative medicine services, a patient-centric type of care that addresses physical, emotional, spiritual and environmental needs. That's especially important for cancer patients, said Dr. Steven Limentani, senior vice president of cancer care.
"If a surgeon, a radiation oncologist and a medical oncologist or hematologist are not working in sync, then the care is not optimal," he said.
Construction is on track for completion in December.
Vannoy Construction is the lead contractor. McCulloch England Associates is the architect.