Update on Novant Health's $166M medical plaza in midtown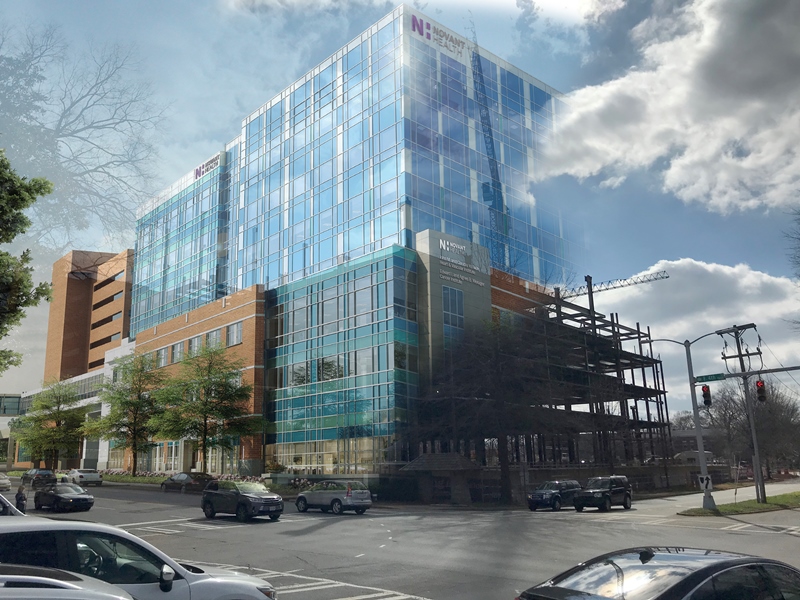 https://www.bizjournals.com/charlotte/news/2019/02/11/update-on-novant-healths-166m-medical-plaza-in.html
By Caroline Hudson – Staff Writer, Charlotte Business Journal
Feb 11, 2019, 2:27pm EST Updated Feb 11, 2019, 2:52pm EST
Construction is underway at the site of Novant Health's planned outpatient center in midtown Charlotte.
Crews broke ground on the seven-story center about a month ago. The project is slated for completion in the fall of 2020. Novant budgeted $165.9 million to complete the facility.
The 260,000-square-foot facility is being built on a parcel stretching from the intersection of Fourth Street and Hawthorne Lane and back toward Third Street. It is adjacent to Presbyterian Medical Tower. A skybridge will connect the facility to Presbyterian Medical Center across the street.
The project will include the John M. and Claudia W. Belk Heart and Vascular Institute as well as the Edward I. and Agnes B. Weisiger Cancer Center. There will also be a heart- and cancer-focused pediatrics complex at 301 Hawthorne Lane. Novant purchased that land for $6.7 million in August 2017, according to Mecklenburg County real estate records.
The Belk Heart and Vascular Institute will include cardiology clinics, rehabilitation, nutrition services, a retail pharmacy and a chapel. The John M. Belk family made a lead investment of $10 million for the project in 2014, as part of the Novant Health Presbyterian Medical Center Foundation's $60 million Groundbreaking capital campaign.
Presbyterian Medical launched the capital campaign to target heart disease and cancer — the top two killers in the United States.
Plans for the Weisiger Cancer Center include a proposed 40-bed infusion bay and an urgent care specifically for cancer patients with compromised immune systems. Other wellness services available to cardiac and cancer patients are yoga and therapeutic massages, along with physical, occupational and speech therapy services.
The project also includes a café with outdoor seating, a gym with an indoor track, laboratory draw stations on every floor, a celebration patio and a meditation room.
The goal is to provide more comprehensive care in a consolidated location for patients, Novant says.
Vannoy Construction is the lead contractor. McCulloch England Associates is the architect.