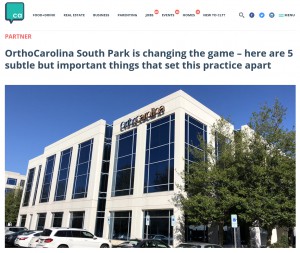 OrthoCarolina South Park is changing the game –here are 5 subtle but important things that set this practice apart – Charlotte Agenda
By Cristina Wilson | March 16, 2018
https://www.charlotteagenda.com/120112/orthocarolina-south-park/
It's the little things that make a difference.
When OrthoCarolina South Park opened in late 2017, it wasn't just about accommodating patient growth or opening a new office in a convenient location. It's a pilot program for a whole new approach to patient experience. We took a tour to see for ourselves.
(1) From the moment you walk in, you're welcomed and guided to where you need to be.
Once you sign in on the iPad, a timer begins. Everything about the clinic is designed to track (and significantly reduce) wait times.
The kiosk check-in and a six-person concierge team make sure that there is zero confusion about where you need to be. Customer service is a major priority, which was clear from the genuine friendliness of every interaction I watched.
(2) The "hub" system.
I won't get into all the nerdy details, but essentially, internal physicians' stations with direct access to patient rooms is huge win for streamlined patient flow. Screens inside each hub track wait times, and start flashing after 10 minutes.
It's honestly a little like Disney… you get the experience without seeing the hustle and bustle of how it's all being done.
Beyond the immediate improvements to communication, the OC team is also looking big picture at ways to cut down wait times.
(3) Better design.
Let's face it, no one hears "orthopedic office" and thinks, "That's probably a place I'd like to spend an afternoon!" Valid. But the team behind OrthoCarolina South Park understood that lighting and decor make a huge impact on overall experience.
Modern, sliding barn doors, comfortable furniture, interesting photographs and artwork, and non-fluorescent lighting all add to the home-away-from-home vibe.
(4) White noise.
Subtle, sound-masking white noise, whether you notice it or not, makes the office experience more relaxing and improves patient privacy.
(5) Perks like valet parking, good coffee, and fruit water.
Complimentary valet parking helps busy patients get on with their day. And the Pure Intentions coffee being served? It's more than just delicious coffee – it's about being a part of the community.
—
Physicians at OrthoCarolina South Park specialize in foot & ankle, hand, hip & knee, shoulder & elbow, spine, and sports medicine.
I hope I don't need treatment for any of those areas anytime soon, but if I do, I'm heading straight to OrthoCarolina South Park (and that fruit water).
Note: This content was created in partnership with OrthoCarolina.