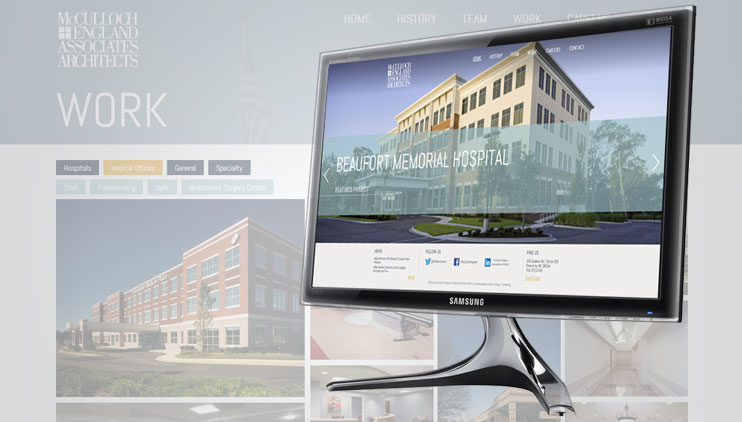 McCulloch England Architects Associates (McCulloch England) has officially launched its updated website. McCulloch England modernized its site as an opportunity to better synchronize its online presence with its marketplace stature. This included redesign and redevelopment of critical pages, including its history, team, and recent projects section.
McCulloch England partnered with Brasco, a Raleigh-based agency that specializes in providing marketing services for companies within the architectural, engineering, and construction industry.
The site was developed in the WordPress CMS to allow McCulloch England to add and/or edit its history, clients' information and portfolio, employees, and/or portfolio projects easily. In addition, we have detailed additional features:
Responsive Design Customization
The site now utilizes responsive design, where the site will respond and adapt according to the size and orientation of visitors' screen size and resolution. This means that the site will adjust and cater to smartphone, tablet, or standard-sized monitors. This prevents the need for a separate mobile-native site, and allows us to update site content once, regardless of how visitors' access the site.
Client History Management Tool
The new site features a unique subpage outlining McCulloch England's history. This includes a feature outlining its transition from Snoddy & McCulloch Assocates, Inc. to McCulloch England Associated Architects in 1977. It also includes the company's ongoing history with its most important clients, including its first customer (Novant Health Presbyterian Medical Center). The clients are filtered by the year that the partnership started, with the most recent being 15 years ago. The functionality allows users to view pertinent information and visualize linked critical projects.
Team Management Tool
The site now includes a Team Management Tool, allowing McCulloch England to manage its employees. This includes a scrolling banner of headshot images, email address, and title. Upon clicking on the individual bio pages, additional information is featured, including a short bio, state(s) registered in, educational info, and included featured projects.
Portfolio Management Tool to Promote Portfolio Projects
McCulloch prefers its projects, developed over its 43-year history, best represent its services and capabilities. Thus, McCulloch customized a Portfolio Management Tool to promote its work. This includes utilizing dynamic layout functionality, which automates preview images of all 76 projects to best fit the visitor's screen size. The user has the ability to filter projects by Hospitals, Medical Offices, General, and Specialty—it also includes the following secondary filtering options: Hospitals: Additions, Vertical Additions, Renovations; Medical Offices: Shell, Freestanding, Upfits, Ambulatory Surgery Centers; General: Religious, Education, Facility, Wellness Building; and Specialty: Cancer, Pediatrics, Heart/Vascular, Women's, Surgery, Emergency, MedSurg, ICU, and Imaging.
McCulloch England has specialized in healthcare, religious, and educational architecture work throughout the Southeast for the past 43-plus years. It currently has 13 registered architects and 18 additional full-time employees. McCulloch England prides itself on its client-centered service, spearheaded by the fact that returning clients comprise nearly 85 percent of its business.
If you are interested in working at McCulloch England, you can submit your information and resume on the Careers page. Otherwise, you may fill out the informational contact form or call 704-372-2740.