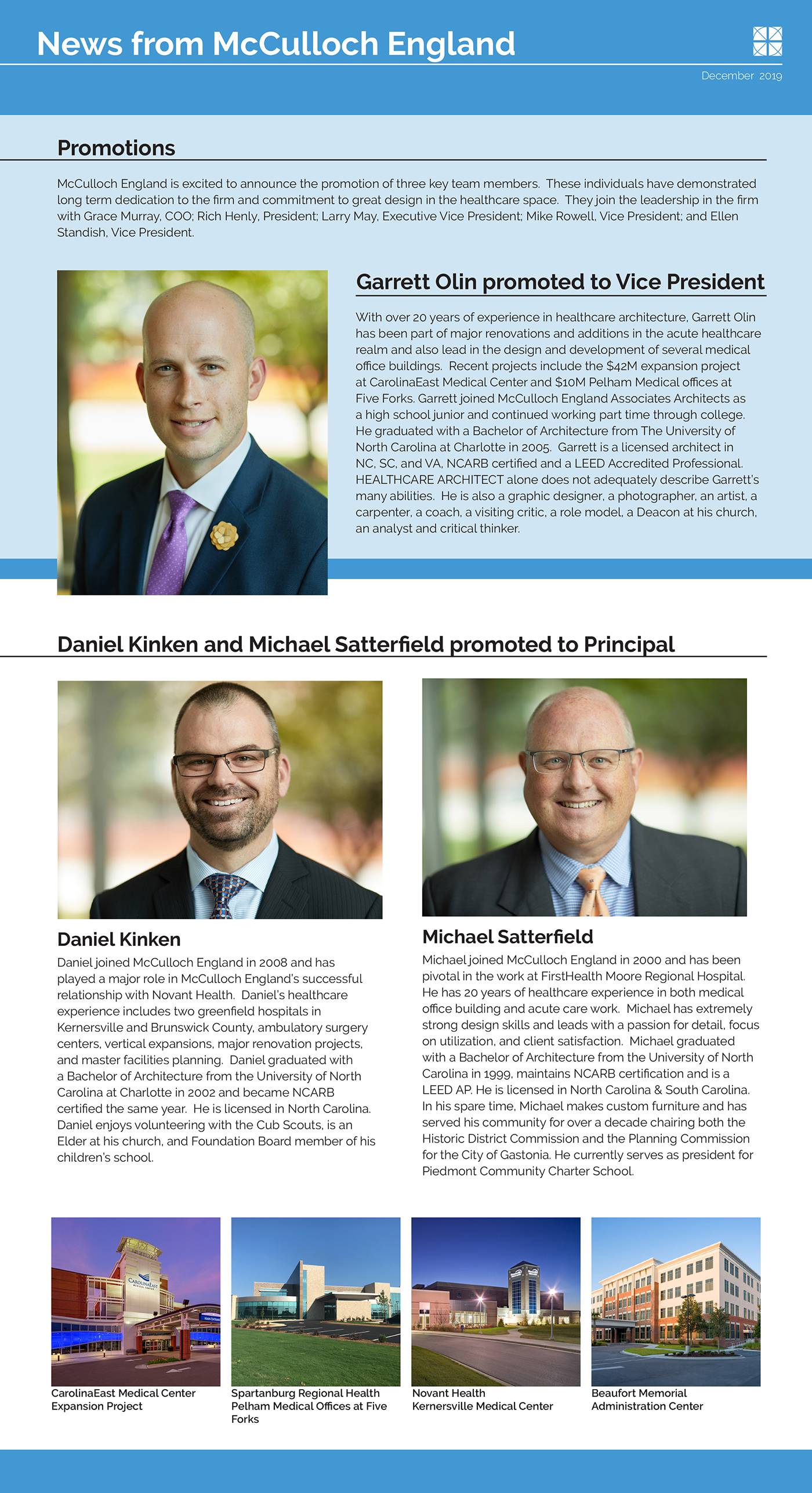 [plaintext article below]
Promotions
McCulloch England is excited to announce the promotion of three key team members. These individuals have demonstrated long term dedication to the firm and commitment to great design in the healthcare space. They join the leadership in the firm with Grace Murray, COO; Rich Henly, President; Larry May, Executive Vice President; Mike Rowell, Vice President; and Ellen Standish, Vice President.
Garrett Olin promoted to Vice President
With over 20 years of experience in healthcare architecture, Garrett Olin has been part of major renovations and additions in the acute healthcare realm and also lead in the design and development of several medical office buildings. Recent projects include the $42M expansion project at CarolinaEast Medical Center and $10M Pelham Medical offices at Five Forks. Garrett joined McCulloch England Associates Architects as a high school junior and continued working part time through college. He graduated with a Bachelor of Architecture from The University of North Carolina at Charlotte in 2005. Garrett is a licensed architect in NC, SC, and VA, NCARB Certified and a LEED Accredited Professional. HEALTHCARE ARCHITECT alone does not adequately describe Garrett's many abilities. He is also a graphic designer, a photographer, an artist, a carpenter, an educator, a visiting critic, a role model, an analyst and critical thinker.
Daniel Kinken and Michael Satterfield promoted to Principal
Daniel Kinken
Daniel joined McCulloch England in 2008 and has played a major role in McCulloch England's successful relationship with Novant Health. Daniel's healthcare experience includes two greenfield hospitals in Kernersville and Brunswick County, ambulatory surgery centers, vertical expansions, major renovation projects, and master facilities planning. Daniel graduated with a Bachelor of Architecture from the University of North Carolina at Charlotte in 2002 and became NCARB certified the same year. He is licensed in North Carolina. Daniel enjoys volunteering with the Cub Scouts, is an Elder at his church, and Foundation Board member of his children's school.
Michael Satterfield
Michael joined McCulloch England in 2000 and has been pivotal in the work at FirstHealth Moore Regional Hospital. He has 20 years of healthcare experience in both medical office building and acute care work. Michael has extremely strong design skills and leads with a passion for detail, focus on utilization, and client satisfaction. Michael graduated with a Bachelor of Architecture from the University of North Carolina in 1999, maintains NCARB certification, and is licensed in North Carolina & South Carolina. In his spare time, Michael makes leather goods & custom furniture and serves as Board President at his daughter's school, Piedmont Community Charter School.
Click to email below
Garrett Olin – GOlin@McCullochEngland.com
Daniel Kinken – DKinken@McCullochEngland.com
Michael Satterfield – MSatterfield@McCullochEngland.com